After our ride on the Riesenrad and our resort-like swimming experience, we decided that the next piece of our stay-cation should be something close to home and familiar
(also, easier), so we decided to take our first trip of 2014 over to the Wiener Eistraum — the massive temporary skating complex put on at the Rathaus each winter.
It's a pretty fantastic setup.  There are two large skating rinks, connected by a series of iced paths through the trees of the park in front of Vienna's Rathaus.  It's possible to basically stroll through the park, but on skates.  Then there's a separate area set aside during the day for children to practice their skating (in the evenings during the week, this area is used as curling lanes).  The children's area is free to use, so the only cost is renting skates for the boys.  I knew, with it being the school holidays, that the children's area would be
busy (although not too much busier than usual — when school is in session, this area is typically crowded with school groups on field trips), but we hadn't yet been over to skate this year, and I really wanted to overcome the inertia of being out of the habit.
It's always a fun activity.  The kids love getting their skates on and getting out on the ice.  The thing is, I tend to forget that it ALSO is a ton of work and full of drama.  Yes, the boys love renting their skates and getting out on the ice.  But it's also a bit frustrating learning a new skill, and there are never quite enough of the practice penguins to go around . . . and an hour of holding up off-balance kids gets exhausting.  B does ok.  He's gone skating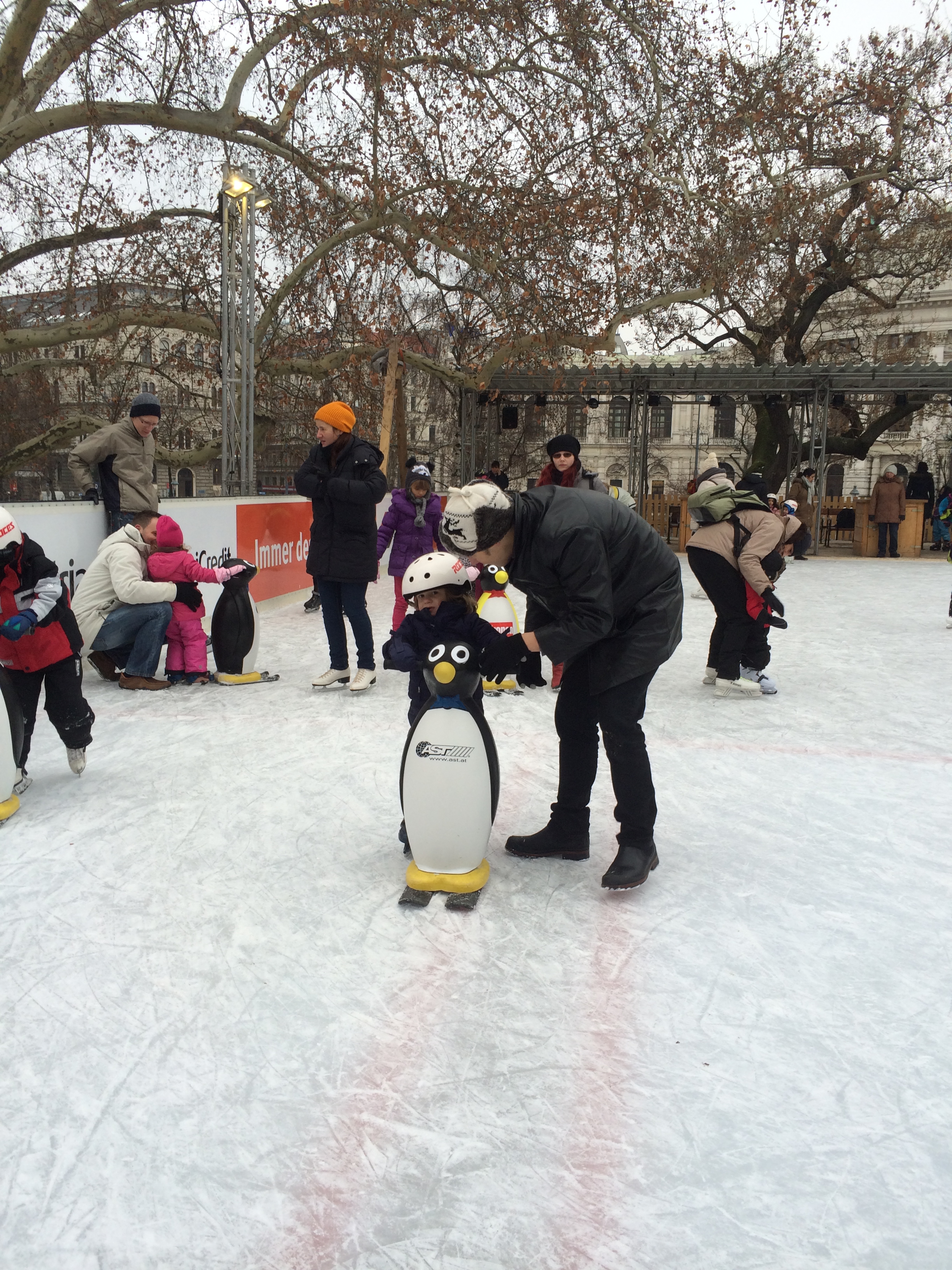 enough to basically remember what to do, and he has pretty reasonable expectations for himself (probably more realistic than mine).  Liam, being littler, gets frustrated more easily.  And though I have fond memories of all of our winter skating trips so far in Vienna, in retrospect I think every trip has ended with at least one of the kids angry or in tears (or both).
This was the same.  B did well, but he really wore me out (he wanted to practice as much as possible without the penguin, which just meant I had to hold him up most of the time).  Liam did well, too, but he did get frustrated and then bored.  We stayed less than an hour, but I'm still glad we went.  It's a very special part of winter in Vienna,
and I'm glad to start to get ourselves back in the habit of going.  It's on for another month, so hopefully we'll get more chances to all go together.
I went again yesterday, by myself while the boys were at school.  I, too, started with enthusiasm and slightly unrealistic expectations.  After about half an hour, my feet and ankles were sore, and I had started to get wobbly from tiring out my muscles.  I decided to call it a day before I fell or pulled something.  Again, I'm glad I went, and I hope I've started myself in the habit of going.  I'd like to make the most of the last month of it.  But it gave me a lot of sympathy for the boys, and helped to remind me why it's never quite as easy to go skating as I imagine it will be.