Preparing properly is probably going to be the thing that makes the biggest difference in the experience that you have.  What you bring, what to plan and how you set up your (and your kids') expectations will all have a huge impact on how successful your trip will be.
Here are some (hard won) ideas:
Keep it simple.  1-2 activities/destinations per day is enough.  1 is preferable.  We've found that either planning one very short morning destination, followed by a bit of down time at the hotel (and at least an opportunity for a nap) and then another very short trip out in the afternoon is possible.  But it's better to just go to one place in the morning, be there as long as you like, and then call it a day.  If you have extra energy after that, you can walk around town, go to the playground, visit the hotel pool, or just rest.  Anything more than that is insanity and is going to end with frustrated parents and crabby kids (or the other way around).  This isn't a bad thing.  By the end of the trip, everyone (grown ups included) will probably feel like they enjoyed themselves more and had a richer experience of the place they visited, rather than just checking major sights off of a list.
Plan your itinerary based on priority.  Don't save something you really want to do for the last day.  Do the most important thing first, because you never know, it may be the only thing you actually accomplish the whole trip.  Trying to save something for a big finale, or for the "best" day for the weather is setting yourself up to be disappointed — everyone may be too tired to really appreciate it, or things may go awry and you might not get to do it at all.
Be realistic about what you can do and see.  Keep trips to places like museums and cathedrals (little interest for kids and lots of "don't touch that") short and allow for longer, more leisurely trips to places where they can be engaged (like sledding) or entertained (like the zoo).  You can probably get away with slightly longer "boring" (for kids) activities if they're during nap time AND the kids have a chance of sleeping through them (like walking tours with the stroller or bus tours).
Have contingency plans.  What if they don't sleep through the bus tour like you were counting on?  Can you hop off at the first or second stop and cut your losses?
Don't worry about a few wasted dollars if it'll make the day go better.  Did you pay a pricey admission to a museum just to immediately have to endure your kids screaming, crying or bouncing off the walls?  Cut your losses.  No one is going to enjoy the dreadful hours spent at the museum at this point.  Count the wasted admission as cheap tuition and do something different next time (or go earlier or later in the day — whatever will work best).  You won't remember the wasted money later, but you'll remember the awful day.
Choose a conveniently located hotel.  Mostly your hotel is for sleeping and showering — although that's a little less true when travelling with kids.  If it's close enough to where the action is to be a useful pit stop (for a quick break, a quick change of clothes, a nap, a potty stop, a different bag, to pick up or drop off the stroller) you will be so much happier with your choice.  Almost nothing is a worse end to the day than having to drag an exhausted toddler on a 20 minute uphill walk to get back to the hotel after dinner.  (Trust me, we've done it.  Not fun, and not worth the $20/night we saved.)  It's great to have a "kid friendly" hotel, but most hotels are pretty kid friendly when you get right down to it (relatively speaking, at least).  Kids are pretty flexible — if they have a safe, cozy place to sleep with their family, they're happy.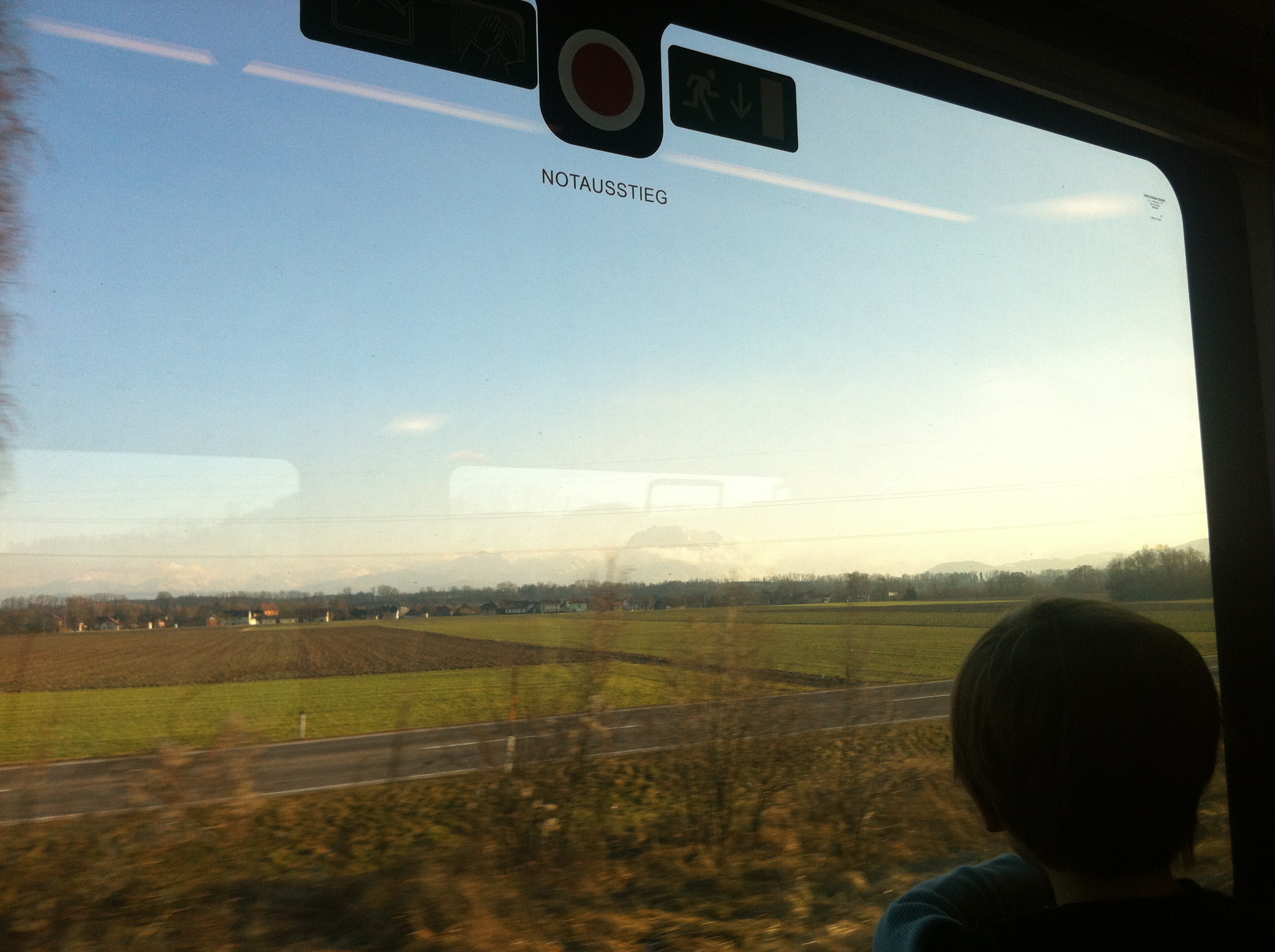 Enjoy the trip.  Making getting there part of the fun, not part of the drudgery.  Kids love train, bus and plane travel, especially if it's new to them.  Tell or read them stories about what they'll experience in the days and weeks leading up to the trip.  Bring games, books, toys and snacks to keep them busy (I like to set them loose with games on my iPhone), and allow some time to just let them look out the window.
Start preparing WAY ahead of time.  I start doing laundry and setting clean things aside at least 2 weeks before any trip longer than about 2 days.  If I leave it until the last minute then I'm up late the night before the trip and I start out frazzled, tired and grumpy, which doesn't bode well for anyone enjoying themselves.  Also, look up the places you intend to go and see while on your trip.  Find out ahead of time which ones will be stroller accessible, which ones might require a whole day to see properly, which ones are optional, which ones might be good for a rainy day, which ones have a cafe inside or nearby and might make for good places to rest or have a meal.
Plan some down time.  My kids are good for about 2 days of "stuff" followed by a day of nothing or almost nothing.  ("Nothing" can be something as long as it will allow your kids to ride in the stroller and/or run around like crazy, depending on their mood on that particular day.)  You don't have to spend the day cooped up in the hotel (but you can if you want to) — you can walk through a park with a great view, take a stroll and do some window shopping, find a playground or spend some quality time at the hotel pool.  Maybe let the kids decide what the activity will be for that day.  Most of the items on your itinerary will be chosen by the adults — just make sure the kids get a chance to recharge their batteries every few days.
It's ok to leave the routine at home.  Give yourself permission to deviate from your normal daily schedule.  Just because your kids take naps every day at 1:00 doesn't mean you have to be back at the hotel, curtains drawn, every afternoon.  A few days of change isn't going to ruin anyone.  But, if they're used to resting at the same time every day, you'll all be happiest if they at least have that option (maybe some stroller time, or a break at a quiet, shaded outdoor cafe where they can curl up in your lap and close their eyes for a few minutes).  Your meals can be a different times than the kids are used to, too, but opt for early and often for meals/snacks over late and infrequent.  Keep some shelf-stable snacks in your room and bag (like animal crackers) to help kids deal with a delayed mealtime, and bring a large-ish light blanket to act as a stroller sunshade if you're going to be out at nap time.
Make meal time kid time.  The kids are probably doing a ton of stuff that is only mildly interesting to them.  They probably have to "behave" and hear "shh, not too loud" a lot.  Let them relax a bit during meals.  Choose a place that has kid friendly options on the menu, or even let them choose the restaurant.  If they've had it with sitting still and "being good", get your lunch to go and eat somewhere they can be free — in a park or your hotel room.
Try not to overpack.  It's so hard to do.  When you're putting your stuff together, it seems like you need to bring everything for every eventuality.  Keep in mind that clothes can be worn again if they're a little dirty (or washed out in the sink if they're very dirty) and almost anything you need can be purchased where you're going if you run out (they use diapers in Paris, too).  Travelling light (always a relative term when kids are involved — the days of packing for a weekend in a backpack are definitely behind me) can help spare your back and your nerves.
Above all else, be flexible.  Things will not go as you plan — accept that as soon as possible for maximum happiness.  Someone will get sick, or no one will be able to sleep, or you'll all go 3 days without a shower, or you'll leave Paris without ever seeing the Eiffel Tower.  In some way, your plans will come apart.  It happens.  No matter what, the kind of time you have will outweigh the things you did in everyone's mind.  Having a great time holed up in a hotel room with a sick kid or because of rainy weather can make a wonderful memory — dragging miserable, screaming children (or adults) to a sight that you MUST see will not.