---
It was our last hold out.  Of all the places we'd had on our "must visit" list before we came to Vienna, Prague was the only one we hadn't been to.  It's supposed to be lovely, it's close to Vienna, and everyone who goes just loves it, so of course we were planning to go.
In fact, we'd planned to go 4 different times since we've been here.  I no longer remember all the reasons our previous trips have been cancelled.  I know that at least one was because the boys were sick, and I'm fairly certain another was because Dan had something come up at work and we couldn't go away.  I vaguely remember that one time there was an issue with train tickets being sold out on the dates that we had planned to travel, but that might have been a different trip.  Regardless, it was past time for us to make a trip to Prague.
And so, last June, we finally went.  We found an apartment, booked our train tickets, did a minimal amount of research (I hadn't realized where, geographically, Prague actually is until about 2 years ago — it's actually WEST of Vienna).  And we were off, on another travel adventure, to a new country.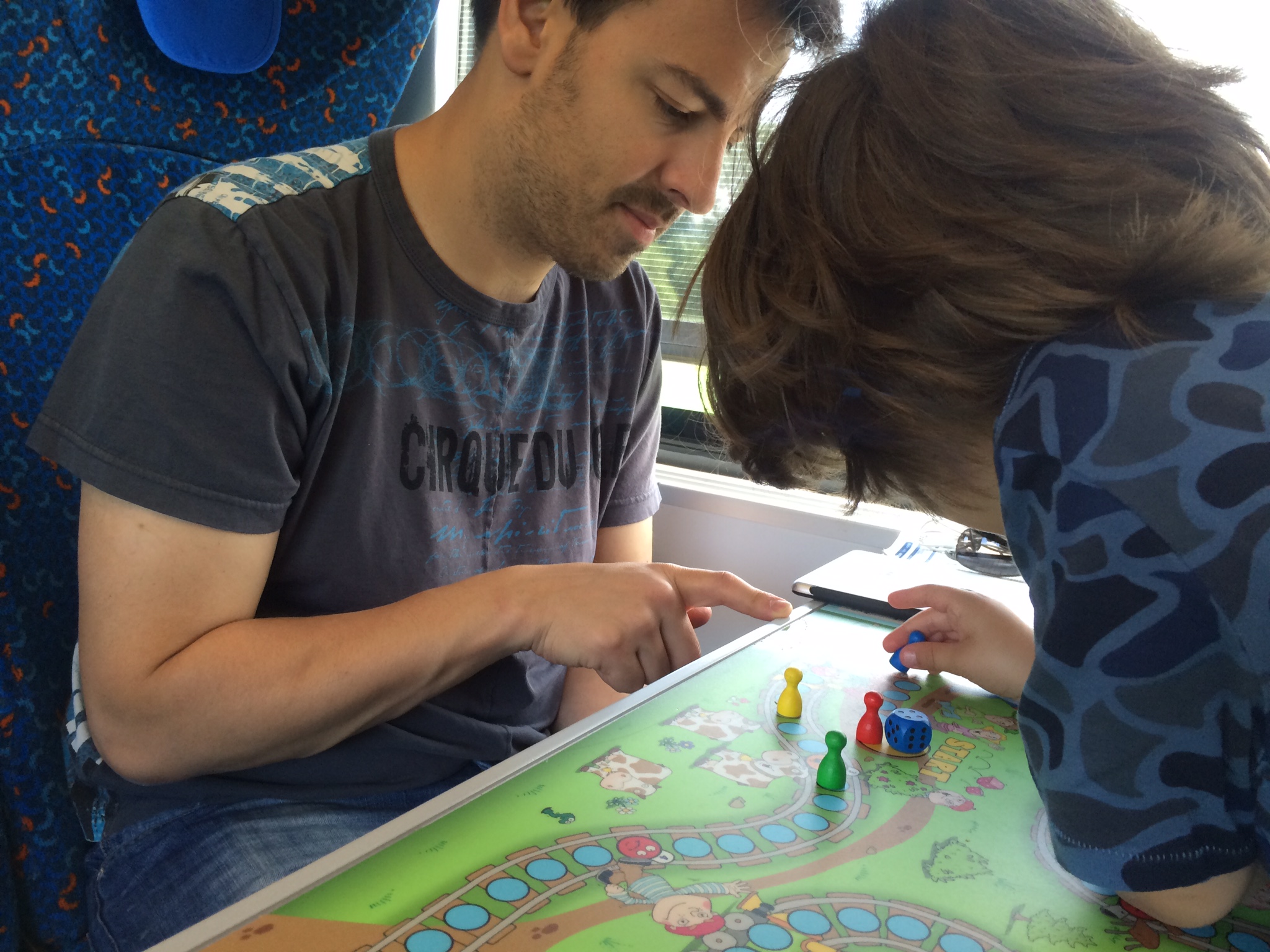 We traveled by train, which was something we hadn't done over a significant distance in quite a while, and we found it, again, to be fun and easy compared to our more recent air trips.  I love the train, because we don't have to be there 2 hours early, we don't have to worry about which luggage gets checked or carried on, we don't have to wait in line for security checks (though that might not always be a good thing, I suppose).  All we have to do is show up and get on.  We got a spot in the "family friendly" carriage, so we were not the loudest or the crankiest passengers, and our table top at our seats had a board game built into it.  (The conductor dropped off the playing pieces when he checked our tickets.)  The trip from Vienna to Prague was uneventful and pleasant, and no one was interested in checking our travel documents (which is what we've gotten used to within the EU . . . though that may be different these days).  Our plan for getting from the train station to our rented apartment involved taking the tram, which was slightly complicated, because we don't speak Czech, and were completely unfamiliar with the tram system, but we sorted it out once we arrived in Prague, and it was actually incredibly easy and relatively user friendly.  (Though we struggled, throughout the weekend, with figuring out how to use the automated ticket machines for the tram system.)  We managed to pick an unusually hot weekend for June, which was slightly inconvenient, because we had also selected an apartment without air conditioning or ceiling fans.
Once we arrived and were settled in, though, the heat provided extra motivation to get out and explore the city (since it was hotter inside than outside).  Our first destination was the Prague castle, high on the hill overlooking the city, and we got there (again) by tram (though at this point we were mostly catching on and we found it progressively easier and extremely convenient to navigate the city this way).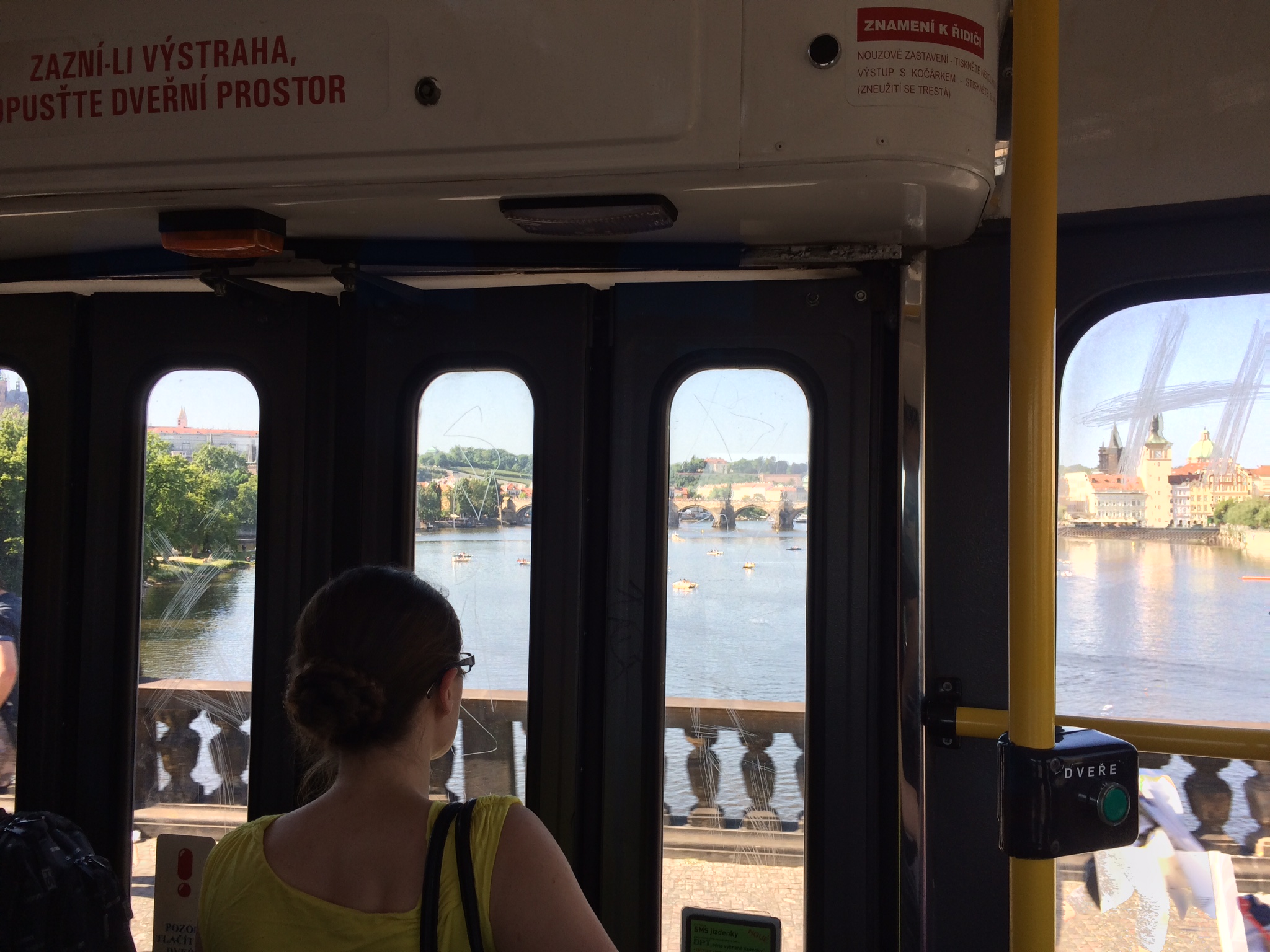 We were struck, almost immediately, by how friendly people are in Prague.  People actually smiled to us at they passed (which I found unnerving, initially, until I realized just how much I've adapted to living in Vienna).  When we had trouble with the ticket machines for the tram, passersby stopped to help.  And in addition to being generally friendly and outgoing, almost everyone we encountered spoke truly excellent English.  We were worried that since we were traveling to a country where we spoke not a word of the language (apart from what we studied in the Rick Steves guidebook on the train on the way there) that we would have trouble communicating, but we absolutely did not.  It wasn't an issue at all.
Now what WAS an issue was that, by the time we sorted out where we were going, got off a stop early accidentally, and walked the rest of the way up the hill, we had one very, very cranky and tired 4 year old with us.  He fell asleep on the tram, and by the time he got up, he didn't want to walk, he didn't want to see anything, he didn't want to be there.  We found a quiet place at the top of the hill (behind a monastery) and sat to check out the view and give Liam a chance to rest.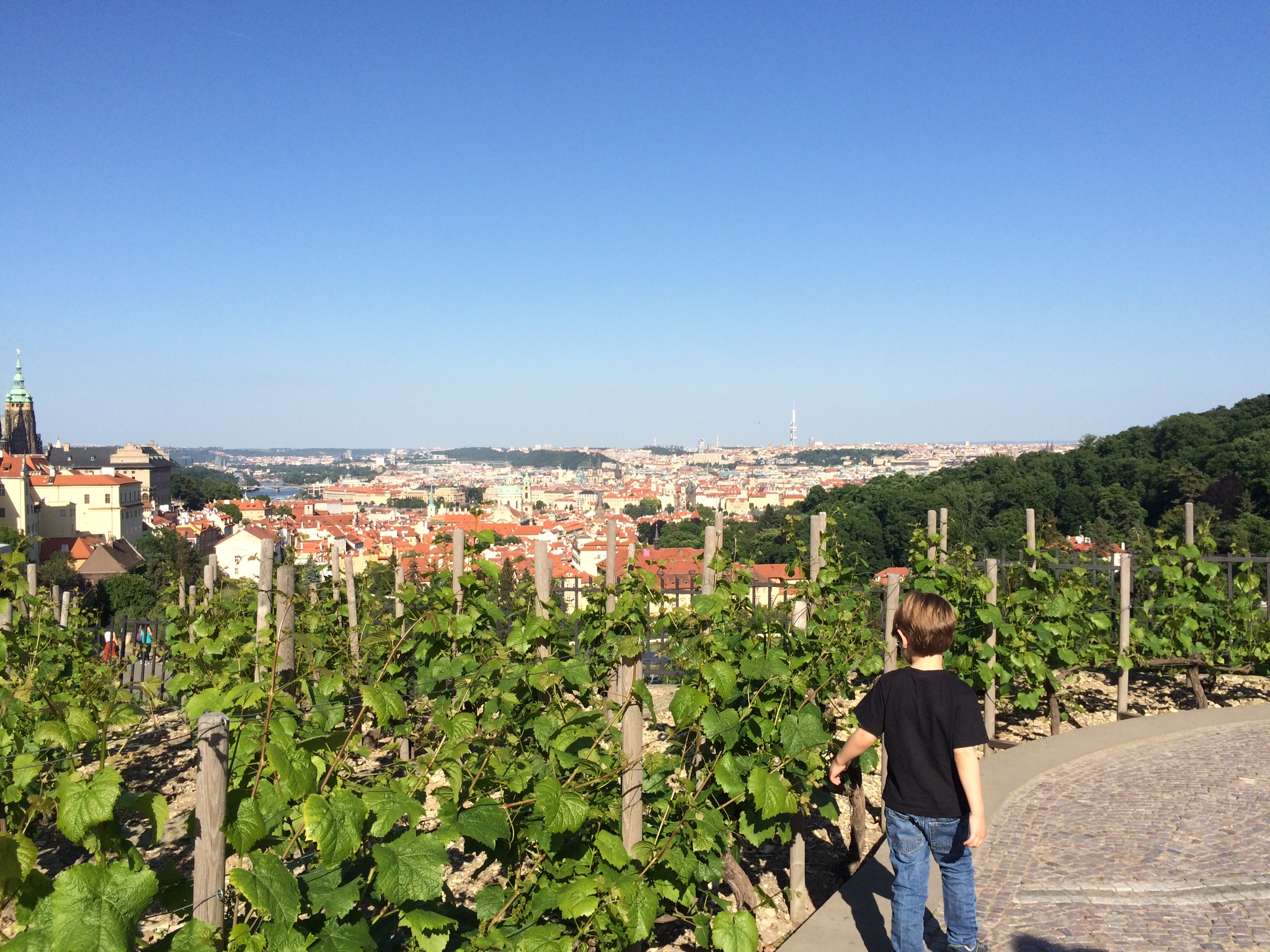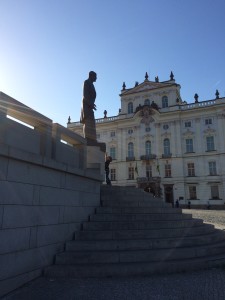 Prague really IS as beautiful as everyone says.  The bridges over the river are picturesque, the winding, cobbled streets are romantic, the view from the hill down over the city is lovely.  As we abandoned our post overlooking the city, and began to walk down towards the castle, we came upon a procession in celebration of Corpus Christi (which was apparently the day we were there).
By the time we got into the actual castle grounds, many of the buildings were closed for the day (it was late afternoon), but that was actually ok, because the kids wouldn't have been up for much historical study at that point.  Instead, we explored the grounds in near privacy, the kids got to run around a bit, and we found a spot to enjoy the view from a slightly different perspective.  We took the tram back to the center of town, and went for a quick stroll to the Old Town Square after a lovely Czech dinner, but we were all tired at that point, and a more extensive investigation would have to wait until the next evening.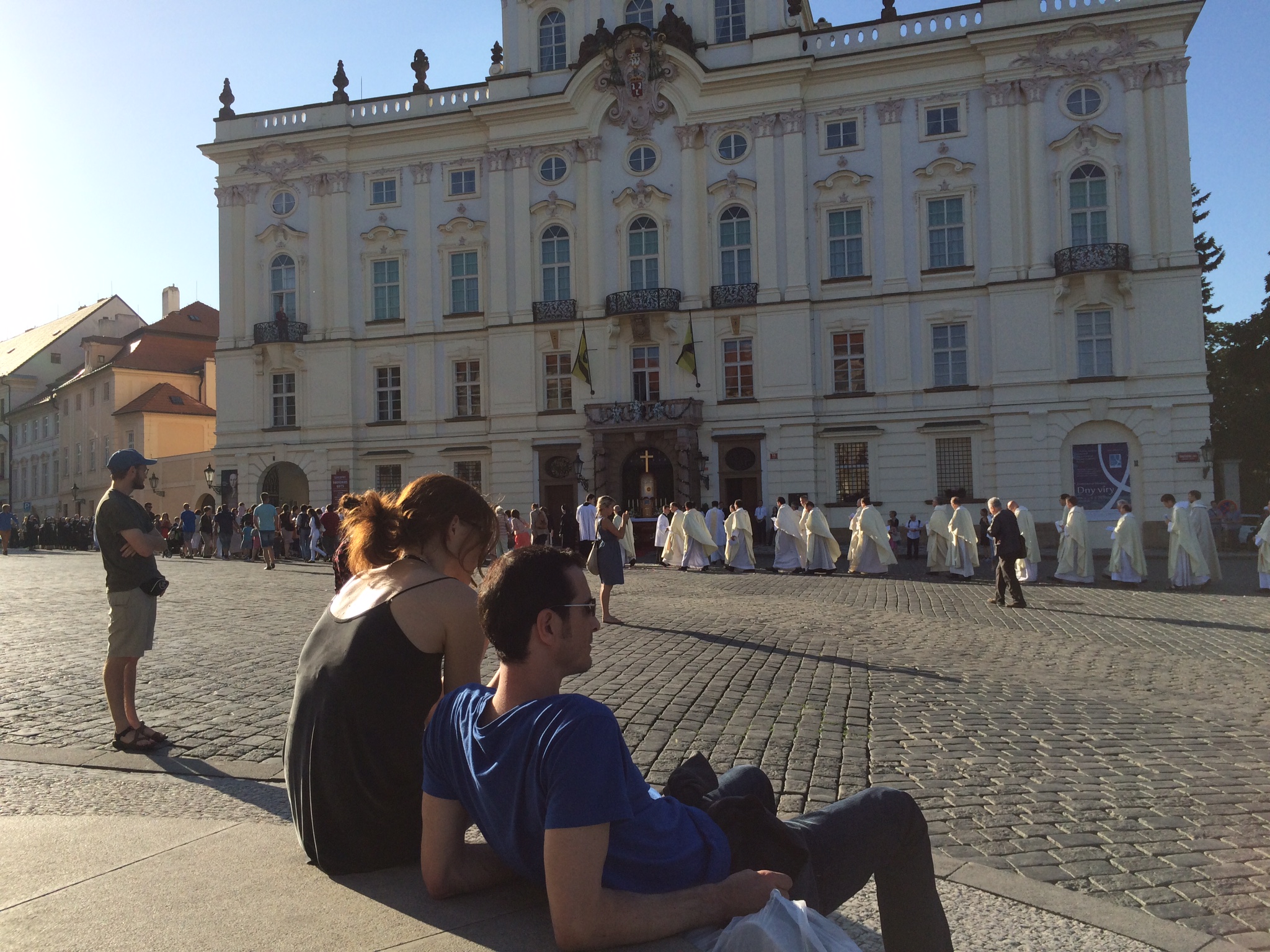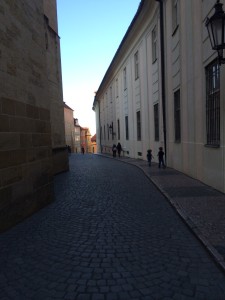 Our first day in Prague, though tiring, was just as lovely as we'd come to expect from other travelers' stories.  So often, when people enjoy a place so much, it doesn't quite live up to its reputation.  (Plus, we've become a bit jaded with our extensive travel history.  We've seen a lot, and we're getting a bit harder to impress these days.)  Prague, if anything, exceeded our expectations.  Journeys are always a bit more tiring than we expect, and the heat certainly took some of our energy out of us, but we got to see an impressive part of the city just in our first afternoon, and we were very much looking forward to our further explorations.