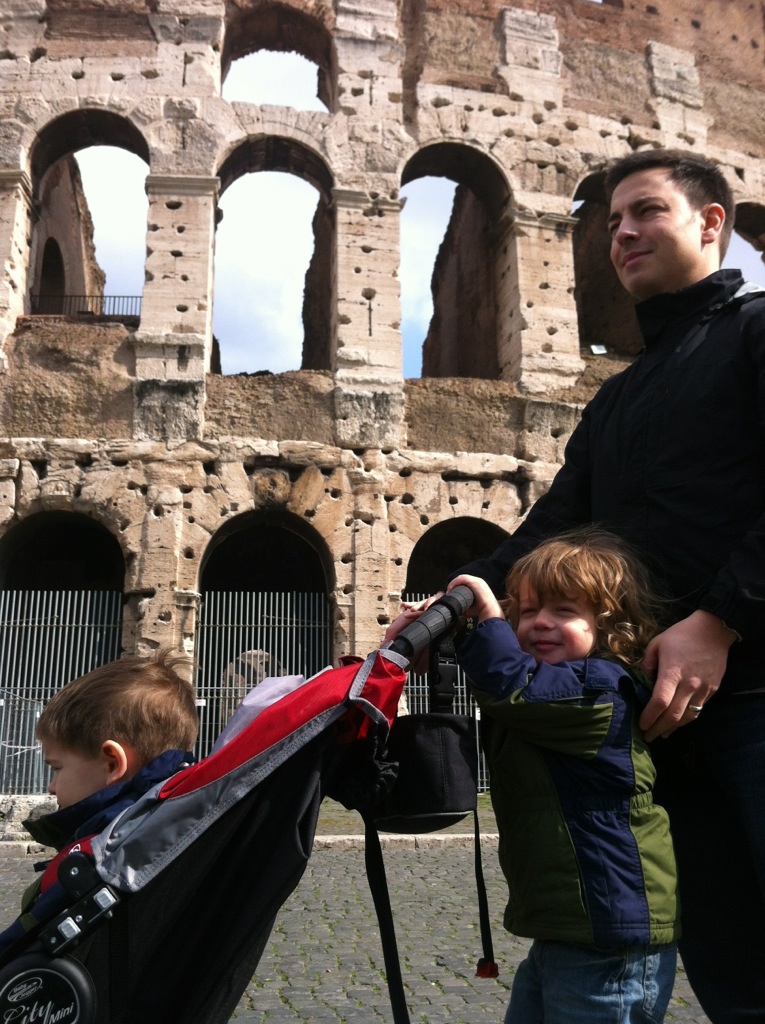 We had a fantastic day today in Rome. After a much needed rest, we got out into the city to visit the Colosseum, which was amazing and massive and ancient and wonderful. It is the oldest thing I've ever seen, and it's a little hard to impart the significance of that to a 4 year old and a 2 year old. It's also hard, we discovered, to explain the purpose of the Colosseum to young kids without traumatizing them with gory details. (B understands that there were lions somehow involved.) They appreciated the steps and the cobblestones and enjoyed wandering around a bit, though.
After exhausting ourselves and the boys' patience, we had a relatively uninteresting lunch and then discovered what is (most likely) the best pastry shop in Rome. We were looking for gelato for the boys (because they will eat ice cream in any weather — including chilly and drizzly, like today) and stumbled across this perfect little confection shop (called Cristalli di Zucchero, located behind the Forum).
It was so lovely. Between us, we had a selection of bite-sized cakes, a few macaroons, a cannoli, a profiterole and a cappuccino. They were all heavenly. It was quite a lucky find.
And then, this evening, we went out and "discovered" (similarly to how Columbus discovered America) our new favorite Roman restaurant (Da Francesco near Piazza Navona). We ate a wonderful assortment of pizza and pasta, all beautifully made, and Benjamin charmed our waiter by ordering a second pistachio tiramisu for dessert.
We shared everything. When my family goes out to eat, we always do. We contemplate the menu, vote for our favorites, choose a selection, and enjoy them together. We have the best time, and we all debate our favorites. We can basically turn any restaurant meal into a family style affair. I love it. I'd rather eat with my family than with anyone else.
So, today, we had a wonderful day. We saw some of ancient Rome, we ate some fantastic food, and we had a great time. So far, Italy is absolutely excellent.