Today was the opening day of a few of the Christmas Markets in Vienna (everything will be open by next weekend) including one of the closest to our house — the one at the town hall (Rathaus).  We decided to stop by the one at the Rathaus on our way home from dinner out with friends.
I've been really excited to see what a Vienna Christmas Market is like — I had visions of a scene out of a Christmas card, of an open air market filled with shops selling mulled wine, cider, roasted chestnuts, hand-knitted mittens and hats, charming ornaments and maybe even fresh Christmas wreaths.  I was hoping it would be a place for the boys to get to run around a bit and take in the sights of pre-Christmas merriment, and for us to do some of our holiday shopping.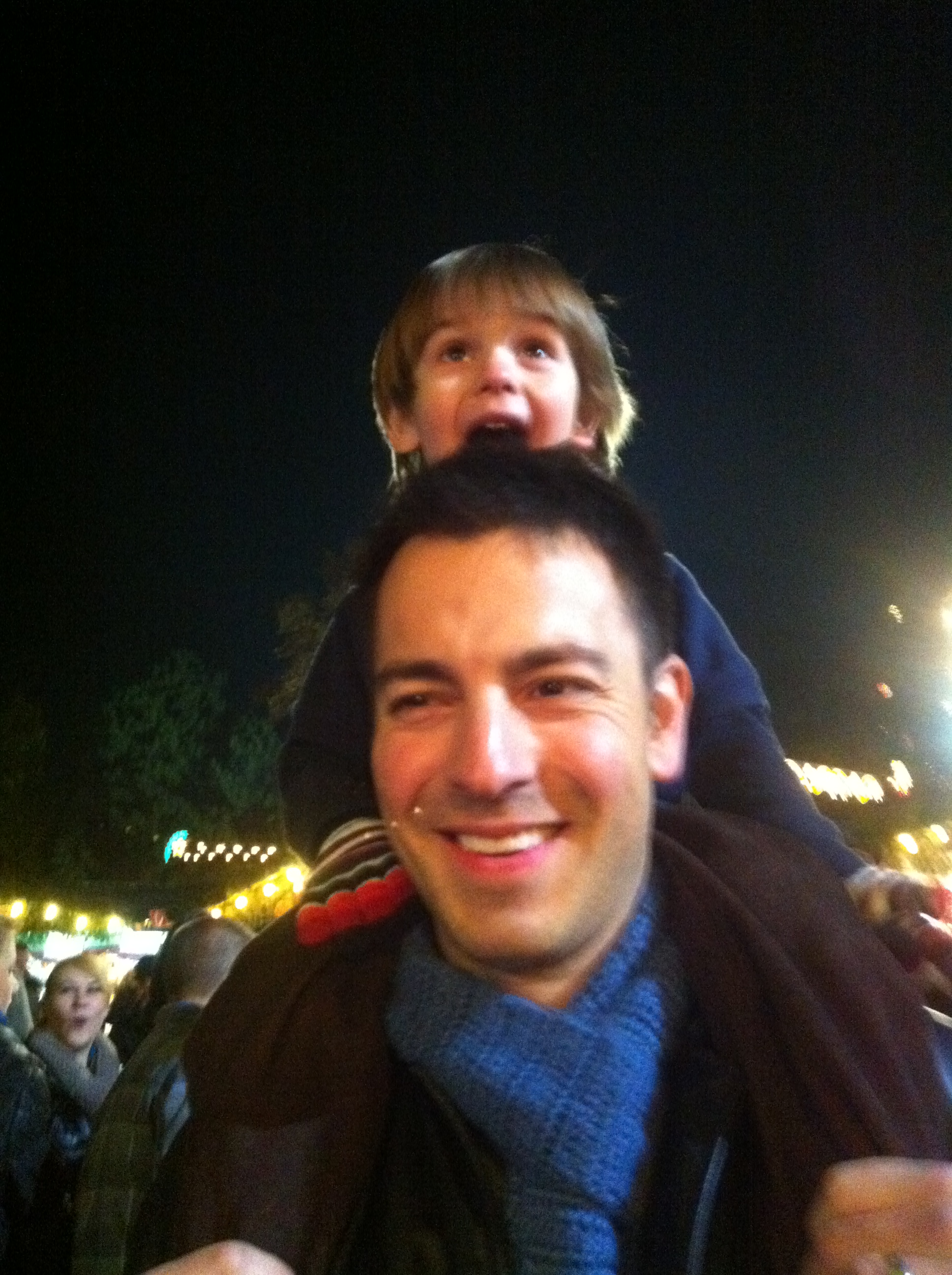 No — it was insane.  It's like a county fair, a bar on Saturday night and the Atlantic City boardwalk all wrapped up in a big Christmas bow and wearing a flashing, light up Santa hat (seriously, they actually sell those — at several different shops).  It was so crowded that it was hard to walk, let alone maneuver a stroller through the throngs.  The shops were plentiful (over 130) but heavy on the "punsch" and "gluhwein" and pre-packaged sweets.  Benjamin wanted to have a cookie, and we actually couldn't find one (which was disappointing).  There were lots of shops with little, cheap, stocking-stuffer type toys, and quite a few that sold either hats or Christmas ornaments (although all the hats and all the ornaments seemed pretty much the same, regardless of the shop).  The crush of people was heavily populated with the young and intoxicated, and there was a lot of smoking (which isn't surprising for Vienna, but it was so bad that we actually came home reeking of smoke, as though we'd been inside and surrounded by smoke).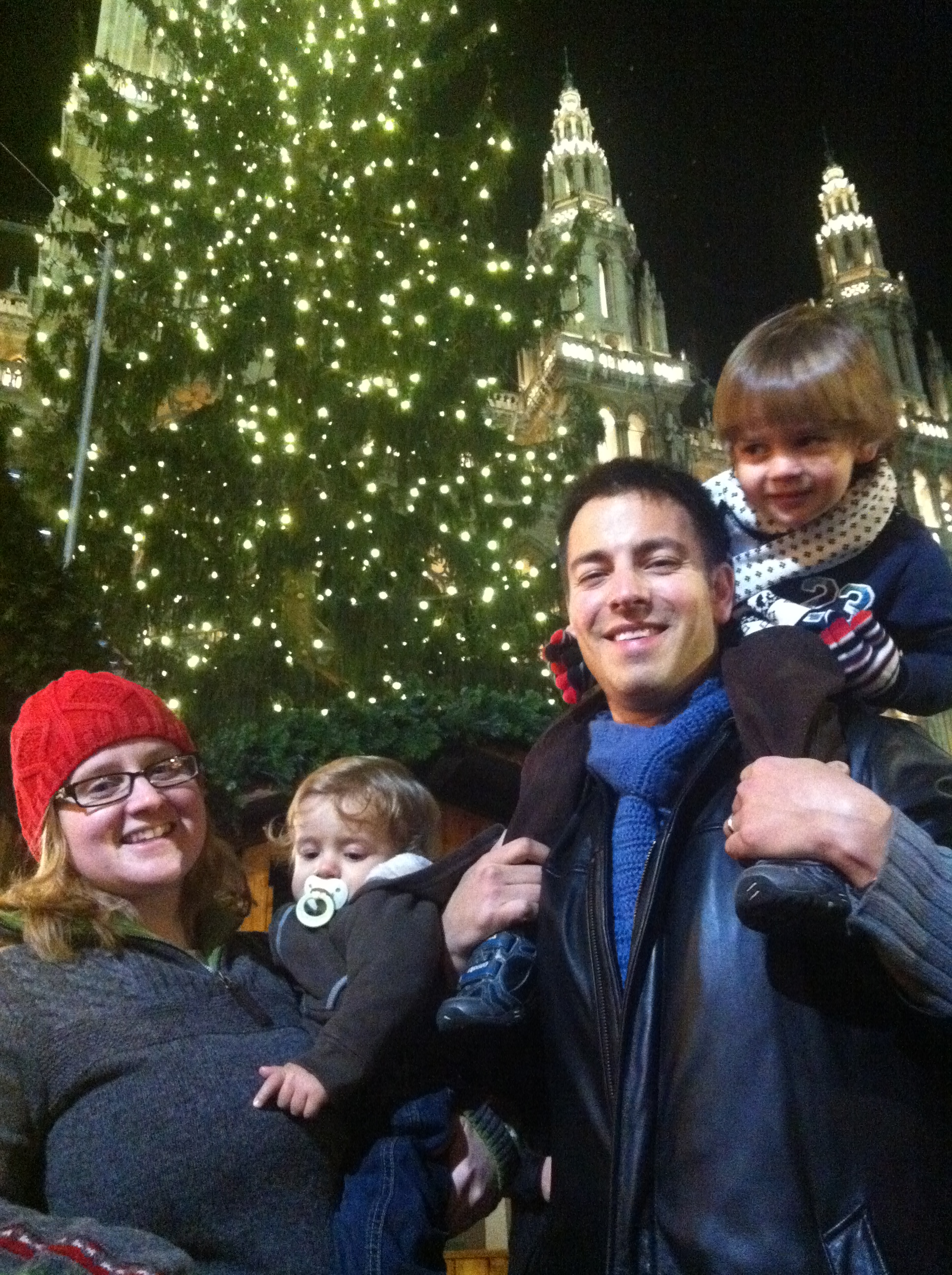 On the other hand, the enormous Christmas tree is beautiful, and the lights displays they had off of the main part of the market were elaborate and pretty, as well.  There's a train that runs around the entire Rathaus park — Benjamin really wants to ride on that soon (and I know we will).
I'd been warned that the Rathaus Christmas Market was the most touristy of all — that the shops there would be selling mass produced, and overpriced, items.  There was a certain festivity to it, and it wasn't bad, but it wasn't at all what I expected it to be.  Maybe it was just the first night?  Maybe it was because many of the other markets aren't yet open?  As we get into December, the entire Rathaus is turned into a giant advent calendar (they decorate and reveal a different window every day) so we'll definitely be back over there between now and the holidays.  I'm curious to see what it will be like in the coming weeks, as well as how it's different during the day, and during the week.  We're going to check out the other Christmas markets, as well.  I'm hoping I find my perfect Christmas card scene somewhere.