We were on the fence about taking a gondola ride in Venice.  It sounds lovely, and romantic, but it also sounded pretty expensive (€80 for 40 minutes) and my paranoid mommy mind kept imagining the boys (who don't swim) trying to jump overboard.
But, I thought, did I really want to come home from Venice without having taken such an iconic ride?  Would it haunt me the way that Dan was bothered (for decades) about not visiting the Eiffel Tower the first time he visited Paris?
So, we went for it.  We wanted the experience of an evening ride (with well rested boys) without the added expense of going out too late (after 7:00 adds another €20 to the price), so we sought out a gondolier just after nap time.  (We also got an unintentional and unexpected moment on the Bridge of Sighs when we got turned around on the way.)  We were lucky in our timing — I guess gondola rides aren't popular on winter evenings, so we barely caught one of the last opportunities of the night.
Once we were settled in our gondola (without incident) our journey began.  It was as beautiful, romantic and captivating as I could have hoped.  The sky was a gorgeous dark blue that deepened as our cruise went on (which Liam commented on several times).  The stars twinkled in the sky and we were so fortunate to have perfectly pleasant and relatively warm weather for an early March ride on the canals.
We cruised past the places where Casanova, Marco Polo and Mozart once lived, and we had an excellent historical tour from our charming gondolier.
The streets and canals of Venice are so narrow and winding that within moments of passing another boat, or gliding past pedestrians waving down from a bridge overhead, you're alone once again.  It creates a feeling of romance and solitude, even in such a busy and well-populated place.  At each junction between paths in the water, our gondolier called ahead, alerting oncoming boats (which were very few) to our presence.
Although I knew it was coming, I gasped, out loud and involuntarily, at the sight of the Rialto Bridge when we turned onto the Grand Canal.  It was stunning to glide up to and then past it, and then to float down the Grand Canal, past the docks full of moored gondolas and the water buses and taxis making their way, more quickly, to their destinations.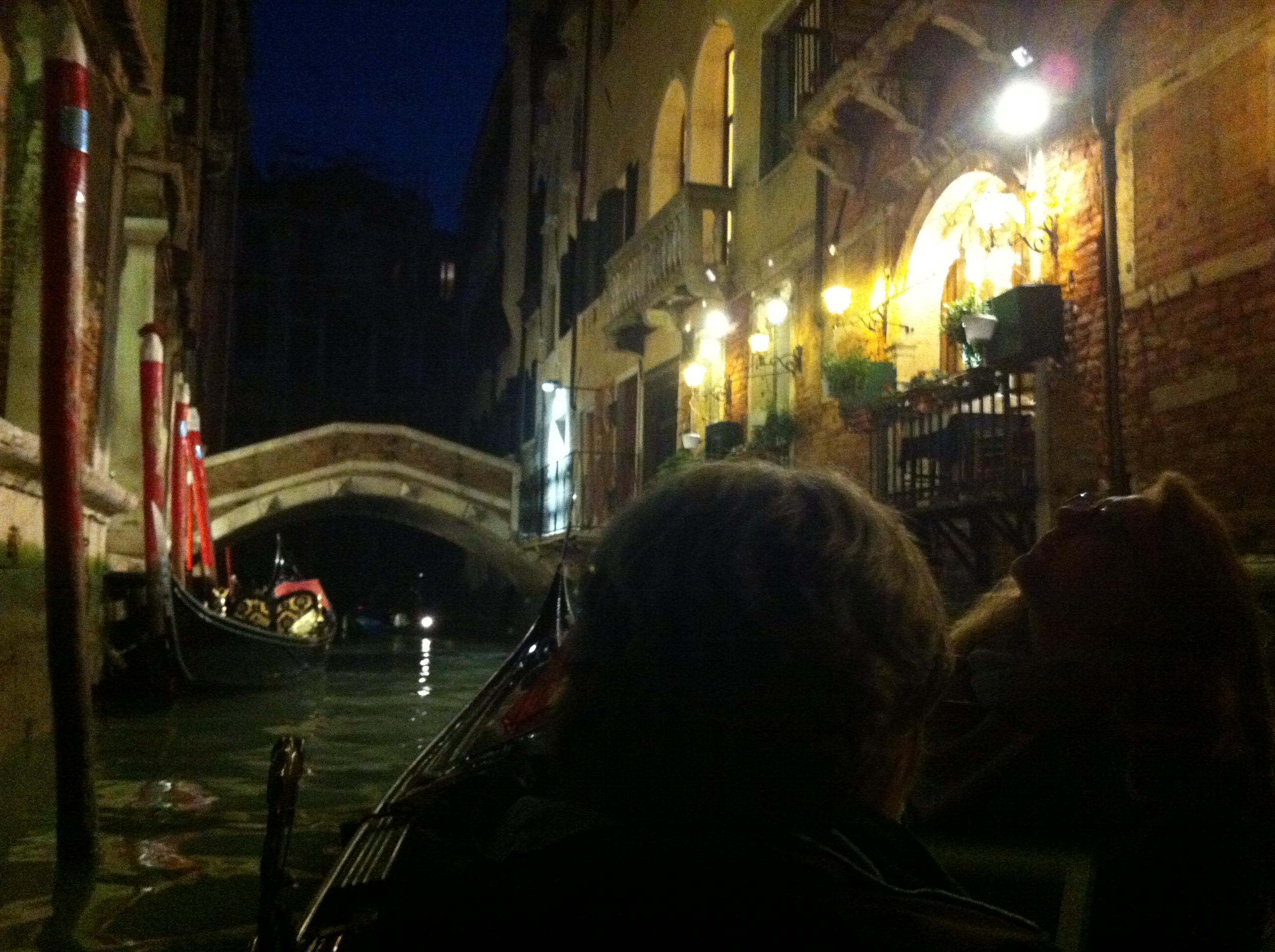 The boys spent the ride snuggled up with Dan & I, and Mina and Jo sat toward the front and took plenty of great pictures.  It was money and time well spent.  (Even better since no one jumped in.)  We thoroughly loved the experience, and we're all so glad we went.  I just don't think it would have been a complete trip to Venice without it.