So, here it is, after much anticipation — December 1, and the beginning of the Advent season.  Not being particularly religious, I hadn't been a big "advent" person for years . . . until I moved to Vienna.  Vienna celebrates Advent in a big way — the markets (which I love), Advent calendars (the paper ones that are so popular here, as well as open-a-new-window-each-day window displays throughout the city), and a major display of Christmas lights, plus a lot of religious celebration (of course).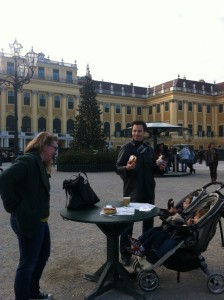 We definitely celebrated the beginning of Advent today.  We started our morning with a trip to the Schonbrunn Christmas market.  It was Jo's first trip, and she was suitably impressed.  The market there is very nice — although the tour buses do unload at the front gates.  Most of the shopping stalls are duplicates of those we've seen downtown (with a few notable exceptions — one of hand painted cards and glass items and another of handmade straw art), but they're also some of the best offerings throughout the Christmas markets.  The food at Schönbrunn is better, more plentiful and more varied than at the other markets, and we started by enjoying freshly made Krapfen (donuts) filled with jam, vanilla pudding or chocolate sauce.  We got one of each.
We tried to shop, but the kids were frazzled, so we walked around to the back of the palace, and let the boys loose to explore the grounds.  (Jo was appropriately impressed again.)  It was a cold but beautiful day, and we walked all over, enjoying the scenery, introducing Jo to one of our favorite places in Vienna, and letting the kids run and play.  After a while, we all got a bit chilled, and we headed back to the market to enjoy some warm Punsch.
Each market is a little different when it comes to flavors of Punsch, but Jo & I both tried the apple struedel flavor, which was excellent, and then we managed a quick stroll through the market and a snack on the go before the kids were fed up, the grown ups were cold, and it was time to go home.
I would have considered our day full and festive at that point, but, after naps, we headed out to see the Christmas lights in the heart of Vienna.  Vienna's lights are amazing and beautiful, and are hard to capture properly in words or pictures.  We saw sheets of lights hung every few feet along one street, creating the effect of a luminous, golden canopy.  We saw gorgeous and huge crystal chandeliers hung above Vienna's pedestrian shopping district.  We saw a glorious Christmas tree standing outside of Vienna's most famous cathedral.  And, we walked beneath an assortment of glowing red orbs as wide as the street they covered.  It was spectacular and wonderfully festive.
We had a big day, but it was full of so many amazing moments.  We so enjoyed spending our first day of December in this city that celebrates this season so exuberantly.  Vienna during Advent is a joy, and one we took full advantage of today.  (And tomorrow, we will rest.)