Today we took the train to a very small town called Retz, which is apparently world famous for its Pumpkin Festival.  It was a long train ride which took us well beyond Vienna — we were about 5 km from the Czech border when we arrived at the Retz train station.  We had a great time at the Am Himmel festival last weekend, so we thought we'd give this one (which was supposed to be bigger) a try as well.  From Retz, we took a shuttle bus (three fully loaded tour buses ran every hour) to Obermarkersdorf.
It was certainly bigger.  There were nearly 60 shops, kiosks and food stands, several marching bands, a couple of regular bands, floats, a carousel, a bouncy house (actually, a bouncy fire station), a pumpkin maze and (according to the brochure) over 1000 carved jack-o-lanterns (I think that's a very conservative estimate).
The town is darling.  It's the epitome of a little Austrian town, with narrow winding streets, cute little homes and a stream running through the middle, crossed by several footbridges.  In this case, the front yard and windows of each home was adorned with a pumpkin scene.  The theme this year is "around the world" so each home chose a country or region of the world and decorated based on that theme.  Some of the displays were stunningly elaborate.  We saw the North Pole, the Orient Express (accompanied by pumpkin Japanese Lanterns), the Loch Ness (Pumpkin) Monster, a bull and a matador, the Eiffel Tower, a pumpkin blacksmith who was actually moving, a massive pumpkin pyramid, a very long pumpkin train, and a pumpkin gondolier along with his pumpkin customers — all of whom were actually in a gondola, floating in a pond.
We met up with some friends on the way, and some more when we got there, and together (and separately) tried a variety of fun (and, in most cases, pumpkin inspired) dishes.  My favorites from today were small apple/pumpkin fritters, coated in powdered sugar, and also the pumpkin cappuccino.  We also successfully scoured the festival for another jar of pumpkin seed pesto (because the jar we purchased last weekend is already gone).
Benjamin and I took part in several of the kid's activities — we got through the pumpkin maze (actually a hay bale maze with pumpkins) easily and then decorated a glass lantern which we then lit and carried through the festival, hanging from the stroller.  (Yet a few more for the long list of things you'd never do in the States:  decorate a glass lantern with a 3 year old, light a lantern for a 3 year old, attach said lantern to the stroller and walk
through a festival crowded with people.)  Decorating the lantern with B was fun (he opted for lantern making over pumpkin carving) and we'll be keeping it to use for trick or treat . . . or just late night trips in the wagon.  (Liam, unfortunately, chose the time when we were in the kid's section to sleep, so he missed out on that part.)
We had a great time.  We saw lots of fun things, we ate good food, we hung out with fun friends, we did fun activities . . . and then it was time to go home.  We caught the shuttle bus back to the train station . . . and then discovered that we had over an hour wait for our train.  In the cold.  With two kids.  Who didn't get real naps today.  And were hungry.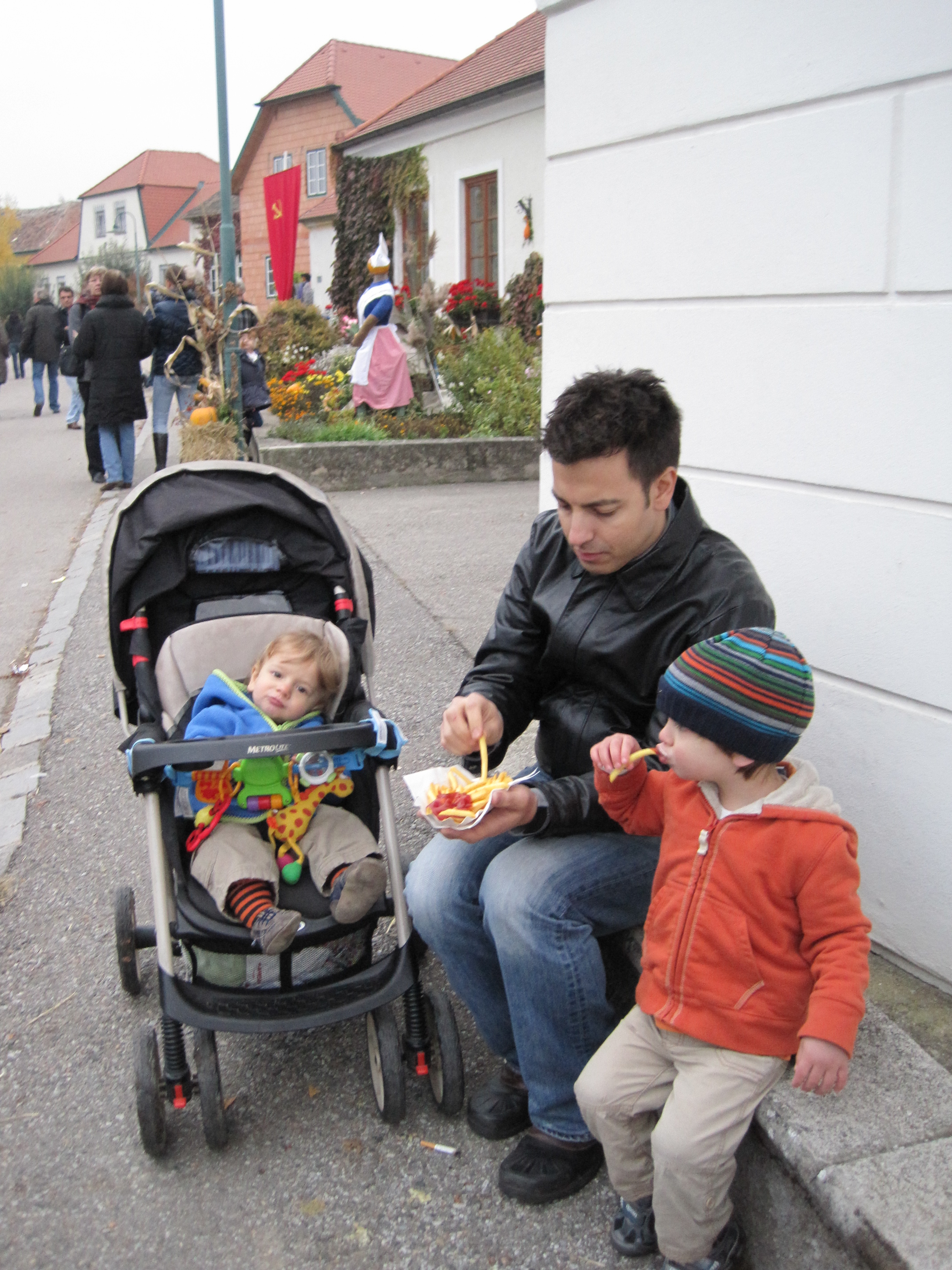 But, amazingly, we finished our day with a great hour in the train station and a nice ride home.  At the train station, Benjamin made a few friends (some adults and another kid), showed off his speed and spinning ability, and challenged the other little boy to several races back and forth.  Liam practiced his walking.  Once on the train, Liam took a good nap with Dan while Benjamin and I talked about our day and looked at the pictures we took.  In all seriousness, the grumpiest person at the end of the day was me.  My kids were amazing.  They enjoyed the day enthusiastically and kept their good spirits throughout.  I am amazed and impressed by them.
Retz's renown for putting on a good Pumpkin Festival is well deserved.  We all had a lovely day in the Austrian countryside and we're all feeling thoroughly festive and geared up for Halloween.